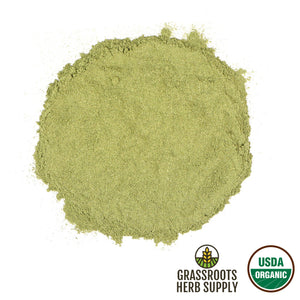 Stevia Leaf, Powder (Stevia rebaudiana)
Regular price
$5.95
$0.00
Grassroots Herb Supply is committed to providing the highest quality, all natural dried herbs. We never use toxic pesticides, chemicals, fertilizers or any harmful additives during the growing, harvesting and drying process.
Botanical Name: Stevia rebaudiana
Common Names: candy leaf, Kaa he-he, sweet herb of Paraguay, caa-ehe, honey leaf
Often used for its enjoyable flavor in herbal formulations, stevia leaf powder can also be added to smoothies, baked goods, and tea infusions. Our stevia leaf powder is ground from the leaves of Stevia rebaudiana, a plant native to Brazil and Paraguay. Stevia leaf has been used for millennia by the Guarani tribe who employ the herb for its healthful benefits and to cut the bitterness of local teas.

Stevia comes from a group of plants that are native to South America. In tropical regions it grows as an evergreen shrub. However, in temperate regions it can be grown as an annual or herbaceous perennial. Stevia leaf also goes by the common names of candyleaf, Paraguayan sweet herb, and sweetleaf. It is a member of the Asteraceae plant family.
*NOTE: The information above has not been evaluated by the Food and Drug Administration. It is for educational purposes only. This product is not intended to diagnose, treat, cure, or prevent any disease. Due to FDA regulations, Grassroots Herb Supply, LLC is unable to provide dosage information or any medical advice regarding this product. Please consult with a licensed healthcare professional for more information.
---
Share this Product
---
More from this collection