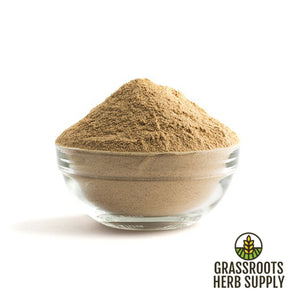 Amla Berry, Powder (Phyllanthus emblica)
Regular price
$6.95
$0.00
Grassroots Herb Supply is committed to providing the highest quality, all natural dried herbs. We never use toxic pesticides, chemicals, fertilizers or any harmful additives during the growing, harvesting and drying process.

Botanical Name: Phyllanthus emblica
Common Names: Indian Gooseberry, Amalaki
Origin: Location may vary. Please contact us for most up to date information.

Amla, or Indian gooseberry, is the fruit of a small to medium-sized deciduous tree native to India. The berries are greenish yellow with a fibrous inner texture. Harvested in autumn by hand, they have a sour, bitter, and astringent taste. In Hinduism, the amla tree is considered sacred to the goddess Lakshmi. A much-beloved staple of traditional Ayurvedic medicine, amla is considered a cooling pitta herb. The high tannin content also makes amla an excellent fixative for dyes, leading to its frequent incorporation into inks. Our amla powder is milled from dried fruit (seeds removed).

NOTE: The information above has not been evaluated by the Food and Drug Administration. It is for educational purposes only. This product is not intended to diagnose, treat, cure, or prevent any disease. Due to FDA regulations, Grassroots Herb Supply, LLC is unable to provide dosage information or any medical advice. Please consult with a licensed healthcare professional for more information.
---
Share this Product
---
More from this collection