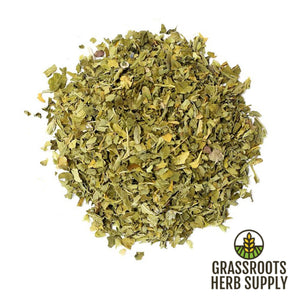 Skullcap Herb, c/s (Scutellaria lateriflora)
Regular price
$5.95
$0.00
Grassroots Herb Supply is committed to providing the highest quality, all natural dried herbs. We never use toxic pesticides, chemicals, fertilizers or any harmful additives during the growing, harvesting and drying process.

Botanical Name: Scutellaria lateriflora
Common Names: Blue sckullcap, American scullcap, Side Flowering, scullcap, Helmet flower, Mad Dogweed, skullcap
Origin: Location may vary. Please contact us for most up to date information.

Skullcap is an herbaceous perennial mint with ridged leaves and tiny flowers that can range in color from purple and blue to pink and white. The two-lobed flowers resemble the military helmets worn by early European settlers, hence the herb's name. A hardy plant, it grows 1 to 4 feet (25 cm to 1 m) high, thriving in the woods and swamplands of eastern North America. Settlers in the late 1700's promoted the herb's effectiveness as a cure for rabies, giving rise to one of its common names, mad dog weed. This claim was later discarded, and herbalists began to focus on the plant's considerable value.

NOTE: The information above has not been evaluated by the Food and Drug Administration. It is for educational purposes only. This product is not intended to diagnose, treat, cure, or prevent any disease. Due to FDA regulations, Grassroots Herb Supply, LLC is unable to provide dosage information or any medical advice. Please consult with a licensed healthcare professional for more information.
---
Share this Product
---
More from this collection