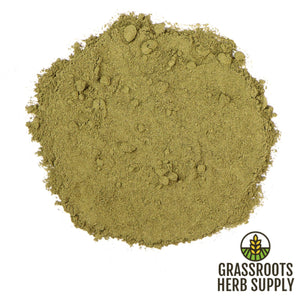 Mullein Leaf, Powder (Verbascum thapsus)
Regular price
$5.95
$0.00
Grassroots Herb Supply is committed to providing the highest quality, all natural dried herbs. We never use toxic pesticides, chemicals, fertilizers or any harmful additives during the growing, harvesting and drying process.

Botanical Name: Verbascum thapsus
Common Names: Great Mullein, Velvet Plant, White Mullein, Bullock's Lungwort, Shepherd's Club, Hare's Beard, Cow's Lungwort
Origin: Location may vary. Please contact us for most up to date information.

Verbascum thapsus is a fuzzy-leaved, herbaceous biennial in the Scrophulariaceae family. In its second year of growth, a flower spike emerges with bright yellow, densely clustered flowers. Although the plant is considered a weed that thrives in compacted, poor soils, mullein leaf has been traditionally used for its many beneficial attributes since the time of Dioscorides, over 2,000 years ago. Mullein herb can be macerated into mullein extract, brewed as mullein leaf tea, or made into syrup.

The silvery green leaves and bright yellow flowers of mullein have been utilized for thousands of years in herbal traditions. This gentle herb has been used extensively in European and North American folk medicine and thus has a plethora of folk tales associated with it.

Mullein is a biennial herbaceous member of the Scrophulariaceae family, bearing silvery green and extremely fuzzy leaves, and growing up to eight feet in height. In the first year it appears as a basal rosette of leaves, and in the second year, it sends up huge flower spikes with many bright densely clustered yellow flowers which only open for one day. Its generic name, Verbascum, is thought to be derived from the Latin word 'barbascum' with 'barba' meaning beard and referring to the hairy leaves.

NOTE: The information above has not been evaluated by the Food and Drug Administration. It is for educational purposes only. This product is not intended to diagnose, treat, cure, or prevent any disease. Due to FDA regulations, Grassroots Herb Supply, LLC is unable to provide dosage information or any medical advice. Please consult with a licensed healthcare professional for more information.
---
Share this Product
---
More from this collection