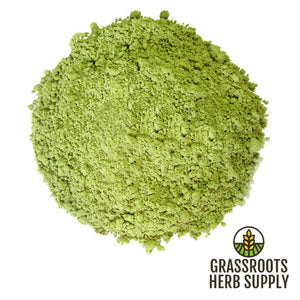 Matcha Tea, Powder (Camellia sinensis)
Regular price
$7.95
$0.00
Grassroots Herb Supply is committed to providing the highest quality, all natural dried herbs. We never use toxic pesticides, chemicals, fertilizers or any harmful additives during the growing, harvesting and drying process.

Botanical Name: Camellia sinensis
Common Names: Camellia, Matcha
Origin: Location may vary. Please contact us for most up to date information.

Matcha is a green tea produced from shade grown tea leaves and milled into a fine powder. It has a smooth, refreshing, slightly sweet flavor with a vibrant green color and silky texture.

Our all natural Matcha Tea is a culinary grade matcha. It makes a delicious tea, and is often used in cooking and baking. Culinary grade matcha is a very high quality tea, with a slightly different flavor profile than ceremonial grade matcha. Culinary grade matcha isn't necessarily a lower quality product than ceremonial grade matcha, it's just prepared differently for a different use – and it features different characteristics. It has a more robust flavor than ceremonial grade matcha, is slightly less sweet, with more bitter notes.

NOTE: The information above has not been evaluated by the Food and Drug Administration. It is for educational purposes only. This product is not intended to diagnose, treat, cure, or prevent any disease. Due to FDA regulations, Grassroots Herb Supply, LLC is unable to provide dosage information or any medical advice. Please consult with a licensed healthcare professional for more information.
---
Share this Product
---
More from this collection