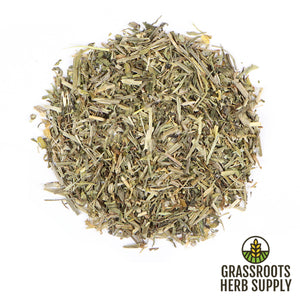 Cleavers Herb, c/s (Galium aparine)
Regular price
$5.95
$0.00
Grassroots Herb Supply is committed to providing the highest quality, all natural dried herbs. We never use toxic pesticides, chemicals, fertilizers or any harmful additives during the growing, harvesting and drying process.

Botanical Name: Galium aparine
Common Names: Bedstraw, goose grass, goose's hair
Origin: Location may vary. Please contact us for most up to date information.

Cleavers is a creeping plant with tiny hairs, clinging leaves, and sticky seeds that cling to passers-by. Found growing around the world, Galium aparine is an herbaceous annual in the Rubiaceae family. Cleavers is also called bedstraw after one of its historical uses as mattress stuffing. While the leaves and stems are eaten fresh on spring salads, dried cleavers herb is commonly tinctured, steeped as tea, or used topically.

NOTE: The information above has not been evaluated by the Food and Drug Administration. It is for educational purposes only. This product is not intended to diagnose, treat, cure, or prevent any disease. Due to FDA regulations, Grassroots Herb Supply, LLC is unable to provide dosage information or any medical advice. Please consult with a licensed healthcare professional for more information.
---
Share this Product
---
More from this collection