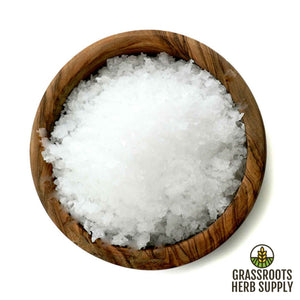 Gourmet Kosher Sea Salt, Flakes
Regular price
$5.95
$0.00
Grassroots Herb Supply is committed to providing the highest quality, all natural dried herbs. We never use toxic pesticides, chemicals, fertilizers or any harmful additives during the growing, harvesting and drying process.

Common Name: Sea Salt
Origin: Location may vary. Please contact us for most up to date information.

Sprinkle a pinch of our kosher flaked sea salt to perfectly finish a dish. Many recipes and chefs call specifically for kosher salt due to the unique shape of its flat crystals and the more rounded, less harshly alkaline flavor it has over ordinary table salt. The increased surface area of these flakes helps the salt adhere beautifully to foods such as pretzels, breads and salted caramels. Unlike some brands of kosher salt, our bulk kosher salt flakes are actually made from real ocean water.

NOTE: The information above has not been evaluated by the Food and Drug Administration. It is for educational purposes only. This product is not intended to diagnose, treat, cure, or prevent any disease. Due to FDA regulations, Grassroots Herb Supply, LLC is unable to provide dosage information or any medical advice. Please consult with a licensed healthcare professional for more information.
---
Share this Product
---
More from this collection