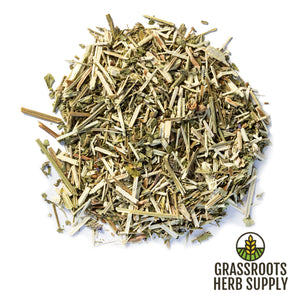 Blue Vervain Herb, c/s (Verbena Hastata)
Regular price
$6.95
$0.00
Grassroots Herb Supply is committed to providing the highest quality, all natural dried herbs. We never use toxic pesticides, chemicals, fertilizers or any harmful additives during the growing, harvesting and drying process.

Botanical Name: Verbena Hastata
Common Names: Wild Hyssop, Herb of the Cross, Herb of Grace, Holy Wort
Origin: Location may vary. Please contact us for most up to date information.

Verbena hastata is a member of the vervain family with small, blueish-purple flowers that bloom in summer. Found across North America, blue vervain has been utilized for its healthful properties for centuries by Native Americans and later by folk herbalists. The herb was traditionally steeped as blue vervain tea but can also be tinctured, made into a syrup, or incorporated into bath and body products like foot soaks and creams.

Verbena hastata is native to North America and is incredibly similar in appearance and properties to its European cousin Verbena officinalis, whom it is often mistaken for. It grows with wild abandon in the Great Plains section of America, and can be found elsewhere on prairies, in meadows, and open woodlands. Other common names for blue vervain include American blue vervain and wild hyssop.

Several of the names for vervain refer to the legend that the wounds of Jesus were dressed with vervain when he was taken down from the cross. This is disputed among biblical scholars as it is not referenced anywhere in modern bibles. It was also used as an ingredient in pagan love potions.

NOTE: The information above has not been evaluated by the Food and Drug Administration. It is for educational purposes only. This product is not intended to diagnose, treat, cure, or prevent any disease. Due to FDA regulations, Grassroots Herb Supply, LLC is unable to provide dosage information or any medical advice. Please consult with a licensed healthcare professional for more information.
---
Share this Product
---
More from this collection