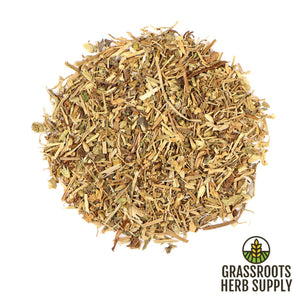 Chickweed Herb, c/s (Stellaria media)
Regular price
$5.95
$0.00
Grassroots Herb Supply is committed to providing the highest quality, all natural dried herbs. We never use toxic pesticides, chemicals, fertilizers or any harmful additives during the growing, harvesting and drying process.

Botanical Name: Stellaria media
Common Names: Addre's mouth, Indian chickweed, satin flower, starwort, stitchwort

Chickweed is an annual that is native to Europe but can also be found across Asia and North America. Abundant in lawns, sidewalks, and open areas, Stellaria media has been a useful and beneficial herb in traditional European healing practices for centuries. The fresh leaves can be eaten raw in salads, and dried chickweed herb is often infused as chickweed tea, macerated in vinegars, tinctured, or used in skin care creations.

NOTE: The information above has not been evaluated by the Food and Drug Administration. It is for educational purposes only. This product is not intended to diagnose, treat, cure, or prevent any disease. Due to FDA regulations, Grassroots Herb Supply, LLC is unable to provide dosage information or any medical advice. Please consult with a licensed healthcare professional for more information.
---
Share this Product
---
More from this collection