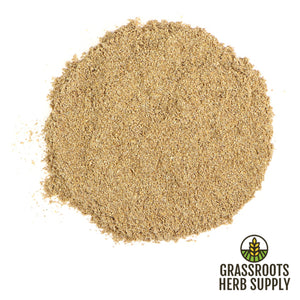 Coriander Seed, Powder (Coriandrum sativum)
Regular price
$4.76
Sale price
$23.95
Grassroots Herb Supply is committed to providing the highest quality, all natural dried herbs. We never use toxic pesticides, chemicals, fertilizers or any harmful additives during the growing, harvesting and drying process.
Botanical Name: Coriandrum sativum
Common Names: Coriander, Cilantro, Dhania, Dhanyak, Chinese Parsley

Botanical Name: Coriandrum sativum
Common Names: Coriander, Cilantro, Dhania, Dhanyak, Chinese Parsley

A member of the Apiaceae family, coriander is native to parts of Europe, Africa, and Asia. In the United States, cilantro often refers to the leaf of the herbaceous annual while coriander refers to the seed. The herb is commonly grown in gardens today and is often used as a culinary spice. Our all natural coriander powder is milled from Coriandrum sativum. Coriander seed powder can be utilized in spice blends, marinades, and soups.

Coriander is a spice that has been used in the Mediterranean and Asia for thousands of years and is now widely cultivated and available in the West. Traditionally, it was used to support healthy digestion and was often added to beans or other hard to digest dishes due to its carminative qualities. Further, it is well known as a flavoring for liquor, beers, and various soups, sauces, and meats.

Coriander is a hardy annual native to the Mediterranean and Asia with compound lower leaves that are somewhat round and lobed, yet have finely divided, lacy upper leaves. These leaves, called 'cilantro,' are abundant in most supermarkets. The small white umbelliferous flowers typify the Apiaceae or Carrot family. All parts of the plant are used, yet the most common are the leaves (cilantro) and fruits, or seeds, which are referred to as 'coriander'.

NOTE: The information above has not been evaluated by the Food and Drug Administration. It is for educational purposes only. This product is not intended to diagnose, treat, cure, or prevent any disease. Due to FDA regulations, Grassroots Herb Supply, LLC is unable to provide dosage information or any medical advice. Please consult with a licensed healthcare professional for more information.
---
Share this Product
---
More from this collection