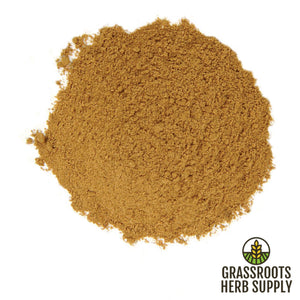 Ceylon Cinnamon, Powder (Cinnamomum verum)
Regular price
$6.95
$0.00
Grassroots Herb Supply is committed to providing the highest quality, all natural dried herbs. We never use toxic pesticides, chemicals, fertilizers or any harmful additives during the growing, harvesting and drying process.

Botanical Name: Cinnamomum verum
Common Names: Sweet cinnamon,
Origin: Location may vary. Please contact us for most up to date information.

Cinnamomum verum is a small evergreen tree native to tropical southern India and Sri Lanka, growing from sea level to almost 3,000 feet. It has been introduced to Madagascar and the Seychelles and is cultivated there extensively. It belongs to the Laurel or Lauraceae family, a family containing diverse genera ranging from the Mediterranean bay tree, to sassafras, paw-paw, and the tropical avocado.

Our all natural sweet cinnamon powder has a soft and subtle flavor and much milder and sweeter than cassia (everyday) cinnamon. It plays well when blended with a variety of other spices, achieving a depth and complexity of flavors within culinary recipes. Also known as Ceylon cinnamon, or true cinnamon, the bark from Cinnamomum verum has a variety of historic uses in eastern and western medicine. Our all natural sweet cinnamon powder can be encapsulated, tinctured, infused, and added to a variety of spice blends.

NOTE: The information above has not been evaluated by the Food and Drug Administration. It is for educational purposes only. This product is not intended to diagnose, treat, cure, or prevent any disease. Due to FDA regulations, Grassroots Herb Supply, LLC is unable to provide dosage information or any medical advice. Please consult with a licensed healthcare professional for more information.
---
Share this Product
---
More from this collection