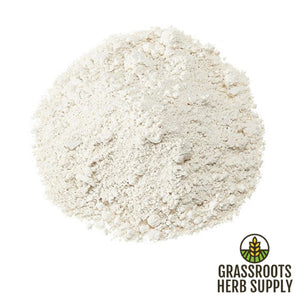 Diatomaceous Earth - Food Grade
Regular price
$5.95
$0.00
Grassroots Herb Supply is committed to providing the highest quality, all natural dried herbs. We never use toxic pesticides, chemicals, fertilizers or any harmful additives during the growing, harvesting and drying process.
Origin: United States


Diatomaceous Earth is a fine, tasteless powder formed from the fossilized microscopic remains of algae-like plants called diatoms. It has a variety of uses including internal detoxification, a facial exfoliator, a household cleaner and deodorizer, and it can also be used as a natural pesticide. When ingested, these millions of microscopic particles move through the stomach and digestive system and absorb and attract bacteria, heavy metals, pesticides and other pathogens.

Our Food Grade Diatomaceous Earth has not been treated with high heat and contains less than 1% of crystalline silica.

NOTE: The information above has not been evaluated by the Food and Drug Administration. It is for educational purposes only. This product is not intended to diagnose, treat, cure, or prevent any disease. Due to FDA regulations, Grassroots Herb Supply, LLC is unable to provide dosage information or any medical advice regarding this product. Please consult with a licensed healthcare professional for more information.
---
Share this Product
---
More from this collection