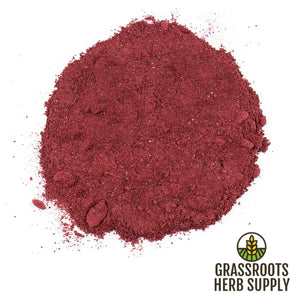 Hibiscus Flower, Powder (Hibiscus sabdariffa)
Regular price
$5.95
$0.00
Grassroots Herb Supply is committed to providing the highest quality, all natural dried herbs. We never use toxic pesticides, chemicals, fertilizers or any harmful additives during the growing, harvesting and drying process.

Botanical Name: Hibiscus sabdariffa
Common Names: Roselle, karkade, sour tea
Origin: Location may vary. Please contact us for most up to date information.

Hibiscus sabdariffa thrives in tropical climates and is commonly brewed into a popular tart beverage. The most common infusion is hibiscus tea which is usually sweetened with sugar due to its tart flavor. In Mexico, hibiscus flowers are the main ingredient of a popular carbonated beverage. The flowers have been brewed with beer and even made into a wine. Our hibiscus powder is ground from dried all natural flowers and can be added to culinary recipes, cosmetic blends, and herbal teas. Hibiscus flower powder can also be used as a natural fabric dye.

There are over 220 species within the genus Hibiscus which belong to the Malvaceae plant family. Hibiscus plants grow in most tropical areas of the world, with a minority of species able to survive in freezing environments. The abundant species found in the tropics cannot tolerate more than a few days of freezing weather and will die if such conditions persist. Hibiscus flowers come in a magnificent variety of colors. Also called roselle and ambashthaki.

Hibiscus flowers are the main ingredient in many wonderfully refreshing teas made around the world, especially in Mexico, Latin America, and North Africa. A tea known as Agua de Jamaica, or simply Jamaica in Mexico, is usually served chilled with copious amounts of sugar to sweeten the natural tartness of the hibiscus.

ALLERGEN: Hibiscus may be intercropped with peanuts and contain peanuts or shell fragments.

NOTE: The information above has not been evaluated by the Food and Drug Administration. It is for educational purposes only. This product is not intended to diagnose, treat, cure, or prevent any disease. Due to FDA regulations, Grassroots Herb Supply, LLC is unable to provide dosage information or any medical advice. Please consult with a licensed healthcare professional for more information.
---
Share this Product
---
More from this collection