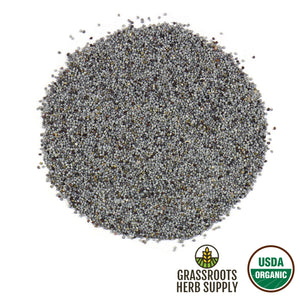 Poppy Seed, Whole (Papaver somniferum)
Regular price
$4.76
Sale price
$26.95
Grassroots Herb Supply is committed to providing the highest quality, all natural dried herbs. We never use toxic pesticides, chemicals, fertilizers or any harmful additives during the growing, harvesting and drying process.
Botanical Name: Papaver somniferum
Common Names: Poppy seed
Poppy seeds are rich in unsaturated fatty acids, making them a healthful choice for organic seasonings. They can be used whole or crushed, though they are difficult to grind unless first roasted.
Poppy seeds are used as food seasonings in a variety of ways throughout the world. In Western cuisine, they flavor baked goods, such as breads and cakes, while they are ground and used to thicken sauces and curries in Indian and Turkish foods. European and Slavic cuisine uses poppy seeds to season fish, vegetable and noodle dishes.
*NOTE: The information above has not been evaluated by the Food and Drug Administration. It is for educational purposes only. This product is not intended to diagnose, treat, cure, or prevent any disease. Due to FDA regulations, Grassroots Herb Supply, LLC is unable to provide dosage information or any medical advice. Please consult with a licensed healthcare professional for more information.
---
Share this Product
---
More from this collection