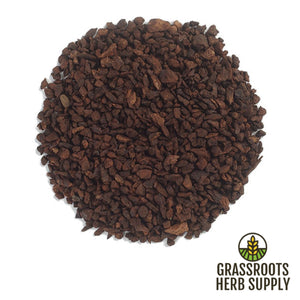 Chicory Root Roasted, Granules (Cichorium intybus)
Regular price
$5.95
$0.00
Grassroots Herb Supply is committed to providing the highest quality, all natural dried herbs. We never use toxic pesticides, chemicals, fertilizers or any harmful additives during the growing, harvesting and drying process.

Botanical Name: Cichorium intybus
Common Names: Kasni, Succory, wild chicory, wild succory, coffeeweed
Origin: Location may vary. Please contact us for most up to date information.

Chicory has bright blue flowers, toothed leaves, and like its cousin the dandelion, it is often thought of as a weed. This member of the Asteraceae family is native to Europe but has naturalized in North America, China, and Australia. Cichorium intybus has a long history of use in traditional herbal practices and has become popular today as a coffee substitute for its deep, robust flavor. Typical preparations of chicory root include decoctions, extractions, and infusions.

Chicory contains a special class of carbohydrates known as fructans; a group containing inulin (not to be confused with insulin) and oligofructoses. Chicory is also called kasni.

NOTE: The information above has not been evaluated by the Food and Drug Administration. It is for educational purposes only. This product is not intended to diagnose, treat, cure, or prevent any disease. Due to FDA regulations, Grassroots Herb Supply, LLC is unable to provide dosage information or any medical advice. Please consult with a licensed healthcare professional for more information.
---
Share this Product
---
More from this collection